Art of the Gold Rush: Painters and Prospectors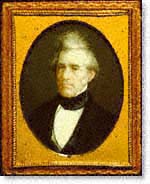 Frederick August Wenderoth, Portrait of a Man, 1854, oil on ivory, 4" x 3". The Oakland Museum of California, gift of estate of Edna B. Lake. Framed
Art of the Gold Rush, a collaborative exhibition between the Oakland Museum of California and the Crocker Art Museum in Sacramento, will reveal a rich visual history through paintings, watercolors and drawings of the California Gold Rush. Documenting the period from 1848 to the mid-1880s, when a core of resident artists comprised the first art community in California, the exhibition runs from January 24 to May 31, 1998, as part of the Oakland Museum of California's far-ranging exploration of the California Gold Rush.
"The Gold Rush drew both professional and amateur artists to California from all over the world. Some came to paint, but others originally came to prospect and then turned to painting," noted Janice Driesbach, Art of the Gold Rush co-organizer and Curator of Art at the Crocker Art Museum.
"Works in the exhibition offer a great deal of information about California, its peoples and landscapes during the Gold Rush period," added Harvey Jones, co-organizer and Senior Curator of Art at the Oakland Museum of California. "We are extremely excited to be able to present this exhibition because it will offer visitors an idea of how mining was done, what miners wore, what they took with them to the gold fields, and many interesting details about their daily lives."
Among the subject matter in the exhibition are vistas of San Francisco reflecting the city's growth and change during the Gold Rush; genre paintings of prospectors, settlers and life in the mining camps; and portraits of California residents, including John A. Sutter, at whose lumber mill gold was first discovered, and Washington A. Bartlett, the first alcalde (mayor) of San Francisco.
Landscape views portray California's natural beauty, abundance and diversity. Other paintings reflect the trades adopted by those who settled and drew sustenance from the state in ways besides mining: Frederick Butman's Chinese Fishing Village, Rincon Point (c. 1859), for example, and William Smith Jewett's Hock Farm (1851), a painting of Sutter's farm on the Feather River.
Among many selections by A.D.O. Browere, Crossing the Isthmus (c. 1861) depicts one of the most difficult aspects of the journey to California. Another painting by Browere, Miner's Return (1854), portrays a miner returning from California to his home in the Catskill Mountains, his family running to meet him. Many of Browere's paintings during this time reflect the sense of loneliness and longing felt not only by miners, but by others who came to California to seek their fortunes.
Many artists, like Charles Christian Nahl, supported themselves during the early years of the Gold Rush by making lithographs and illustrations for newspapers or magazines. One of the works on display by Nahl, Miners in the Sierra (c. 1851), painted in collaboration with August Wenderoth, is unusual in that it is a large-scale genre painting created during the height of the Gold Rush. The painting depicts an outdoor landscape with four miners in the foreground. One is hacking into a stone with a pick, one is shoveling rocks into a sluice box, another is working near the water and the fourth has stopped for a break. This painting shows us that very early on, mining was no longer an individual activity, but a collaborative one.
Art of the Gold Rush is drawn from the collections of the Oakland Museum of California, the Crocker Art Museum, the Bancroft Library at the University of California, Berkeley, and the California Historical Society, as well as public and private collections throughout the country. The exhibition is accompanied by a 180-page, full-color book with essays by Driesbach and Jones and artist biographies by Katherine Church Holland. The book is published by the University of California Press.
The exhibition will travel to the Crocker Art Museum in Sacramento (June 20 - September 13, 1998) and to the Smithsonian Institution's National Museum of American Art in Washington, D.C. (October 30, 1998 - March 7, 1999).
Artists featured in Art of the Gold Rush
John Woodhouse Audubon (1812-1862)
Thomas A. Ayres (1816-1858)
Henry Bacon (1839-1912)
A.D.O. Browere (1814-1887)
George Henry Burgess (1823-1905)
Frederick Butman (1820-1871)
John Henry Dunnell (1813-1904)
Harrison Eastman (1823-1886)
Alexander Edouart (1818-1892)
Augusto Ferran (1813-1879)
Washington F. Friend (1820-1886)
E. Godchaux (dates unknown)
William Smith Jewett (1812-1873)
Francis S. Marryat (1826-1855)
E. Hall Martin (1818-1851)
William McIlvaine (1813-1867)
William Burch McMurtrie (1816-1872)
Charles Christian Nahl (1818-1878)
Hugo Wilhelm Arthur Nahl (1833-1889)
Ernest Narjot (1826-1898)
Samuel Stillman Osgood (1808-c. 1885)
John Prendergast (dates unknown)
W. Taber (dates unknown)
George Tirrell (dates unknown)
Frederick August Wenderoth (1819-1884)
Rufus Wright (1832-?).