Gold Fever! The Lure and Legacy of the California Gold Rush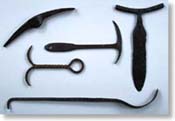 On January 24, 1998, exactly one hundred and fifty years after James Marshall's discovery of gold in California, the Oakland Museum of California opens the largest and most comprehensive exhibition and investigation of this complex period in America's history: Gold Fever! The Lure and Legacy of the California Gold Rush. Gold Fever! will immerse visitors into the sights, sounds and aura of a remarkable era noted for both its greed and its glory—and the stampede of fortune seekers that poured into California. This multi-disciplinary exhibition, occupying 10,000 square feet, presents the event's explosive impact on California's economy, population, environment and cultural diversity through interactive exhibitions, more than 1,000 artifacts, a theatrical audio guide, film footage, a reconstructed archaeological dig, conversations with museum docents, and much more.
Many of the stories told in Gold Fever! will be new to those who learned about the Gold Rush only from elementary school textbooks or a casual tour of Sutter's Mill. Applying new research, the exhibition seeks to inform the visitor by exposing stereotypes, revealing untold stories, illuminating new truths and calculating the event's lasting impact. Authentic objects, papers, and photographs document the simultaneous triggering of extraordinary fortunes for some and utter catastrophes for many others, including California's Native Americans and Californios. The displays, natural specimens and photographs also vividly present the staggering effect of mining techniques on California's natural resources and the consequent birth of the conservation movement.
"The 150th anniversary of the Gold Rush is an ideal time to go back and expose its stereotypes, bring forth new discoveries, look at its legacy, and explore what it means for us today," said L. Thomas Frye, Gold Fever! project director. "The Gold Rush lured the world to California in a frenzy. What happened to California and to the people who were thrown together here by this accident of fate is the story of this exhibition."
Visitors will begin their Gold Fever! tour with a look at nuggets, ingots, coins, jewelry and other artifacts from around the world that represent the compelling symbolism of gold in human history. They will then enter an archaeological "dig" filled with a vast array of 1850s goods, many found in partially burned ships, piers and buildings below San Francisco, including remarkably preserved jars of Gold-Rush olives.
A second area will present those who were living in California on the eve of the Gold Rush, native peoples, Californios, Russians and others. Visitors will then be able to immerse themselves in the events surrounding the moment of discovery of gold by James Marshall in the mill race at Sutter's Mill in 1848, and pick up newspaper accounts of the extraordinary riches of the first finds.
Tableaux of miners' lives and those who arrived to exploit other opportunities will vividly depict the experiences of the men, women and children—Anglo Americans, African Americans, Chinese, Europeans, Mexicans, Chileans, Hawaiians, and more—who made the difficult journey and took up residence in the gold fields and burgeoning cities under arduous living conditions. "Our cultural diversity did not happen yesterday," Frye says. "It goes back 150 years in its greatest dimension. It has enabled California to grow and prosper as no other state in the union has."
A personal audio guide, developed by Antenna Theater, will use an innovative theatrical approach, with actors presenting passionate, insightful first-person accounts taken from journals and correspondence of the Gold Rush era to provide visitors with a sense of being present on the scene.
The staggering impact of mining on California's environment will be dealt with through objects related to mining techniques, from panning in streams to the massive destruction of entire hillsides with enormous hydraulic nozzles that blasted away mountains, silting up California's rivers for miles downstream and flooding prime agriculture land and towns.
Finally, the exhibition will examine the continuing legacy of the Gold Rush. "If we open our eyes, we can enjoy the wonderful metaphor of a golden California, and identify with the bold entrepreneurs who struck it rich in mines or in capital endeavors," Frye says. "But we also need to look at the Gold Rush in a new light. The real challenge is to examine both the winners and losers, and to look inward at ourselves and think of California's future, our own cultural value systems and our need to preserve the golden land that sustains us."
Gold Fever! will be on view through July 26, 1998. It will travel to the Autry Museum of Western Heritage in Los Angeles (September 19, 1998 - January 24, 1999) and to the Sacramento Memorial Auditorium (July 7 - October 31, 1999).