Fred Stocking, His Bride Lucinda Stocking, and His Partners, Big Oak Flat, Tuolumne County, 1856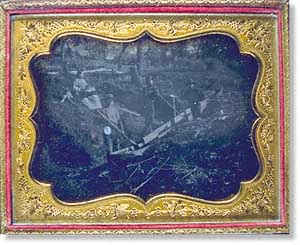 Unknown Maker, Fred Stocking, His Bride Lucinda Stocking, and His Partners, Big Oak Flat, Tuolumne County, 1856, Half plate daguerreotype. Collection of the Oakland Museum of California, gift of Concourse d'Antiques
Fred Stocking arrived in California in 1853, after escaping the sinking ship Tennessee. After digging and mining for a while, he was successful enough to write to his beloved Lucinda in New Haven, Connecticut, and have her secure passage via Panama to California. She arrived without incident on December 15, 1855. She and Fred, along with his twin brother and his partner (the other two men pictured in this photograph), continued to search for gold in Tuolumne County and to build a more sizeable cabin for the Stocking clan.

This daguerreotype (which is slightly underexposed and therefore darker) is significant as one of only two known daguerreotypes in existence that shows a woman in the gold fields. The woman is reading a book and sitting with her dog, not working at the diggings or helping with the extraction of gold. She is dressed simply, with her hair fashionably parted in the middle and kept close to her head. She wears crossed silk ribbons around her neck, fastened with a modest broach. The men are dressed in standard gold field apparel.

This photograph also shows the effects of man's incursion on nature. The tree-stumps and felled trees in the background attest to the influence of the waves of gold seekers on the natural habitat of California.